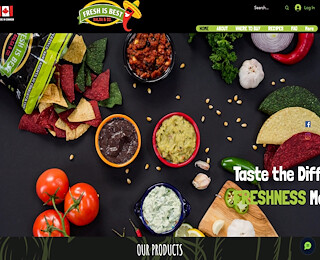 Fresh is Best makes excellent Tortilla chips. Like our name implies, our tortilla chips are the freshest and the best chips you'll find in Canada. We make all of our tortilla chips in small batches to ensure the highest quality. We use no additives, no preservatives, and no BS. Only fresh, and only the best!
Our sea salt tortilla chips have a mouth-watering crunchy and corny flavor. If you like variety, be sure to try our tri-color tortilla chips. Our tri-color bag comes with traditional yellow corn chips, mild red chili chips, and spicy green jalapeno chips. Or you can keep it simple and get a big bag our plain yellow corn tortilla chips. Trust us; plain doesn't mean bad. Try a bag today, and you'll have a new favorite.
You Can't Have Chips Without Salsa
Just like our chips, our salsa is made with no additives or preservatives. We use only the freshest ingredients in our salsa. Our salsa is made with vine-ripened tomatoes, juicy peppers, sweet onions, vinegar, fresh squeezed limes, minced garlic, diced green jalapenos, chilli peppers, parsley, cilantro, and fresh herbs. If spice isn't your thing, don't worry. We offer our salsa in mild, medium, hot, and extra hot varieties, so you can easily find one that pleases your taste buds.
Our salsa inspired our sea salt tortilla chips. We never planned to have a successful retail product when we began making our salsa at home. We were just sick of the unhealthy choices we had to choose from. We love chips, salsa, and tacos, but all the favorite store brands were loaded with MSG, other additives/flavourings, and preservatives. Put simply, the brands on store shelves just weren't compatible with our dietary needs.
We started by making our own salsa at home. All of our friends who tried it loved it. We realized that it was a great product and concluded that more people might like it if given a taste. We began selling our homemade fresh salsa at local markets, and it was an instant hit. The demand increased, and we heard over and over again that our salsa was the best salsa in Canada. Today, you can buy not only our salsa, but all of our other products as well, on store shelves throughout Western Canada.
After experiencing tremendous results with our homemade salsa, the natural conclusion, and a standard request, was for us to make an equally excellent tortilla chip. Proudly, we can say that we did just that. We have experienced equal success with our tortilla chips. 
Try a Bag Of Our Tortilla Chips with Sea Salt
In all of our products, we use only the finest sea salt in our homemade tortilla chips. This enhances the flavor immensely and eliminates the need for other potentially harmful flavourings like MSG. MSG is one of many dangerous ingredients found in most store brand tortilla chips. Pick up a random bag next time your in a grocery store, and see for yourself. Additionally, MSG and other additives are addictive. Our sea salt tortilla chips are also addictive, but only in a good and healthy way. Try a bag today, and judge for yourself.
Tortilla Chips Sea Salt
Fresh Is Best Salsa & Co.
2503777555
1425 Cariboo Place, Kamloops, BC V2C 5Z3
View Larger Map