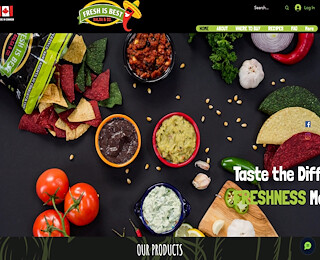 Fresh is Best taco shells are the most delicious taco shells you'll find in Vancouver. We offer a tasty selection of traditional yellow corn taco shells as well our delightful tri-color taco shells. The tri-color variety includes four regular yellow corn taco shells, four mild red chili taco shells, and four spicy green jalapeno taco shells. Each taco shell is jam-packed with crunchy, delicious goodness.
Fresh is Best is all about quality and freshness. Our taco shells contain only the finest ingredients. We never mass-produce any of our products. Instead, we make each batch small to ensure the very best product for our consumers every time. Our method not only guarantees freshness in each package, but it also assures the nutritional value is maintained in the food.
Our taco shells, tortilla chips, salsa, and other products began at home. We wanted great Mexican food (which is hard to find in Vancouver), and we wanted a healthy alternative to the store-bought taco shells we were used to getting. Honestly, we also wanted to create the best taco shells in Vancouver. One of the most significant problems found with store brand taco shells is the massive amounts of potentially dangerous food additives in them.
Avoid Unhealthy Taco Shells
Most taco shells are made with raw grains that are genetically modified. Quite often these raw grains have been refined so much that the nutritional values are entirely gone. Further, these taco shells are high in gluten and have been shown to cause or contribute to other serious diseases including cancer.
Many dieters will find that there aren't too many store brand taco shells that are compatible with their diets if they read the ingredients on the back of the package. Many taco shells contain high levels of simple carbs. Simple carbs are addictive, and many people can't stop eating unhealthy foods, because they crave simple carbs. Their cravings overpower their decision-making. Fresh is Best has the best and healthiest taco shells in Vancouver.
Another dangerous additive found in most store brand taco shells is MSG. MSG is often used with seasonings that make the taco shells tasty. In the United States, the Food and Drug Administration (FDA) has listed MSG as being "safe for consumption." However, that doesn't make everybody feel comfortable.
The FDA is a federal program that was created to regulate harmful ingredients in food and drugs. What most people don't know, is that the FDA can't regulate food or a drug that doesn't contain at least some levels of toxicity. Hence, manufacturers will add toxicity to their products to get it approved by the FDA. Without FDA approval, a food or drug will never make it on the shelves in stores. The system is similar in Canada.
Health experts agree that MSG is a deadly excitotoxin. It can cause brain damage, trigger other serious diseases, and has been linked as a significant contributor to obesity. Far from safe to it this additive!
With all things considered, wouldn't it make sense to buy the safe brand?  Especially if that brand also happens to make the tastiest taco shells in Vancouver? Try Fresh is Best taco shells today. You'll be hooked in a good way.
Taco Shells Vancouver
Fresh Is Best Salsa & Co.
2503777555
1425 Cariboo Place, Kamloops, BC V2C 5Z3
View Larger Map