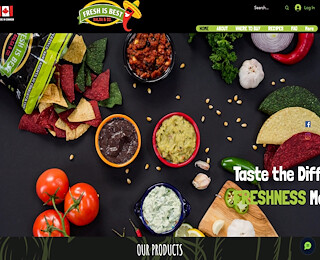 With the growing range of taco shells Canada's food manufacturers are producing, it can make choosing what to have on family taco night just that much more complicated. It can be tempting to simply reach for the first pack of taco shells you see on the supermarket shelf - just to make things easy.
But with all the unhealthy ingredients that are making their way into our food, it pays to take a closer look at what even the humble taco shell contains - just because it tastes good, doesn't mean it's good for you. Not that you should compromise on taste. You can buy taco shells in Canada that are healthy, satisfying and delicious!
Not All Taco Shells Are Created Equal
Trying to work out what is quality and what isn't can be daunting. Food companies have become adept at making products look nutritious in their advertisements and on their packaging. These foods still contain many ingredients that just aren't healthy, and which are not the sort of foods you want to be feeding your family.
Then again, you might already know which products are better for you, but you think you won't enjoy them. It might surprise you to know those healthy food products that use high-quality ingredients, created with tried and tested recipes are frequently much tastier and more satisfying than their heavily processed and chemical-laden counterparts. This is because they still retain much of the fiber, natural flavor, nutrients and other elements of pure whole foods that humans were meant to eat. 
But it isn't hard to understand the confusion - food has changed so much, and it is hard to keep up. What was called a taco a decade ago, and what we call one now are not the same. They may look alike and even taste similar, but now they usually contain vastly different ingredients than they used to.
Very often such changes have nothing to do with making the food more nutritious; in fact, they usually make it vastly less so. That being said, when food is produced with a commitment to freshness, quality, and nutrition, modern food technology can be made to enhance and add variety to traditional recipes.
A Delicious and Healthy Choice
Ultimately, the best taco shells are those made with fewer ingredients, no added sugar, and no preservatives or other unnecessary extras. We proudly manufacture taco shells free of all these unhealthy additions in small batches designed to ensure the best flavor.
Fresh Is Best® has been in the business of making healthy salsas, dips, corn chips and taco shells Canada has loved for almost two decades. During this time we have been perfecting our recipes to bring you the tastiest and freshest products - that also happen to be great for you. We have even been inspired to build upon the simple taco shell and have developed a new range of multicolored tacos that fuse the best of traditional recipes with healthy modern trends.
Fresh Is Best Salsa & Co.
2503777555
1425 Cariboo Place, Kamloops, BC V2C 5Z3
View Larger Map