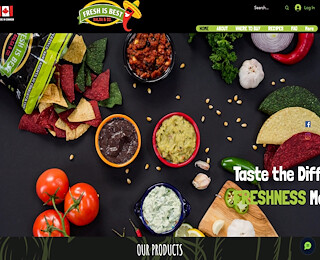 Which came first, the chip or the salsa? Well, at Fresh is Best Salsa & Co., the Salsa came first. It was our signature salsa that put us on the map. We first jarred and sold our homemade salsa at local farmers markets, but the demand for our salsa increased rapidly. Once the need for our salsa increased, we took our product to different co-ops in Calgary, Edmonton, and BC. Happily, we experienced the same success on store shelves as we did locally. Today, making chips and salsa keeps us pretty busy.
With such a great salsa, it was only natural to make an equally great tortilla chip to go with it. However, that's not as easy as it might sound. Our salsa is widely viewed as the best salsa in Canada. If we were to make tortilla chips, they would need to live up to that reputation also. Proudly, we can say that we succeeded in making the best tortilla chips in Canada. Best salsa, best chips!
Best Tortilla Chips in Canada by Accident
It was indeed a lifestyle change that brought Fresh is Best into business. We wanted to eat healthy at home, and the result of using only organic and fresh produce made our salsa taste better than any store brand we'd ever had. Our natural conclusion was that other people would love our salsa, and they did. Who knew! Fresh is best. In addition to being fresh and delicious, our salsa is organic and nutritious.
Next time you're in the grocery store pick up a jar of salsa and read the ingredients. You will find a whole slew of ingredients that you probably can't even pronounce, along with a bunch of additives and preservatives used to prolong the salsa's shelf-life. We wanted a healthy alternative to the salsa we were buying at the grocery store, and we ended up with a salsa that impacted the industry and changed our lives forever.
We Stay Small to Guarantee Satisfaction
Quality and freshness can be found in every package of Fresh is Best tortilla chips. You can find our products throughout co-ops in Western Canada. We also sell our chips and salsas online for your convenience. We only make enough chips and salsa to fill our orders. We don't want to mass produce our products unless we can find a way to keep the freshness and quality levels the same as they are now. We'd love to be on grocery store shelves nationwide, but not at the expense of our founding principles.
We have the best chips in Canada, and we've worked hard to get this level. Try a bag if you haven't yet, and see for yourself. Our consumers are among the most loyal and avid you will find. We encourage you to check out their reviews. We know you'll love indulging in the crunchy, corny goodness found in each bag of Fresh is Best tortilla chips.  We can honestly say we have the best tortilla chips in Canada. 
Best Tortilla Chips Canada
Fresh Is Best Salsa & Co.
2503777555
1425 Cariboo Place, Kamloops, BC V2C 5Z3
View Larger Map