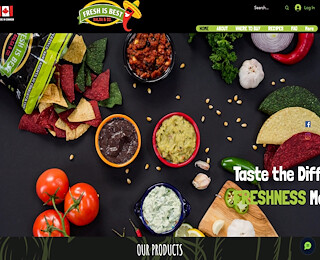 Whether you are creating an entire southwestern meal or simply want to provide your family or guests with chips and dips, you need to find the best tortilla chips possible. When you buy tortilla chips you want to make sure that they taste good, are nutritious and will be fresh. At Fresh Is Best our tortilla chips are made with high quality ingredients and they are always tasty and fresh.
Buy the Best Tortilla Chips
When you are putting out tortilla chips for a gathering or party you want your guests to enjoy the food. Tortilla chips can make or break the taste of any dip or salsa that you provide. The best tortilla chips are those that have a fresh taste that is almost addicting.
At Fresh Is Best our original tortilla chips are made in two different varieties. Our popular tri-flavour chips include yellow corn, green jalapeno and red chili tortillas for a variety of different tastes in one bag.  Or you may opt for the traditional yellow corn tortilla chips. All of our tortilla chips are made in small batches so we can control the consistency and flavor. Then we salt them with natural high quality sea salt to make them the best tortilla chips on the market.
How to Serve Tortilla Chips
There are many ways to serve our tortilla chips. Serve them right out of the bag next to one of our delicious dips for a great snack item for friends or get-togethers. They pair perfectly with our fresh salsa and with our fresh guacamole and fresh spinach dip.
Tortilla chips are also a great base for delicious nachos. Our tri-flavour chips make the perfect start to a great-tasting batch of nachos. Add some meat, cheese and peppers; pop them in the oven and you'll soon have a wonderful snack or meal. Serve nachos alongside our fresh guacamole dip, and salsa and you have a spread that is sure to impress all of your guests.
There are many other recipes that can utilize our fresh tortilla chips. Add them to soups and salads for a great crunch or pack them in your lunch for a quick afternoon snack. They are a great option to have on hand for when unexpected company arrives.
Fresh Is Best
At Fresh Is Best we use only the highest quality fresh ingredients in our products so you can be sure that they are always tasty and nutritious. Our company started from humble beginnings. We first began selling our fresh salsa at the local farmer's market. It became so popular that we needed to start making it to sell at local grocery stores and retailers.
We soon added more fresh products to our lineup. We sell fresh guacamole, fresh spinach dip, tortilla chips, taco seasoning, taco shells and hot sauce. Our fresh dips are located in the refrigerated deli section of your grocer. We take pride in ensuring that every product we make is fresh and tasty using only fresh ingredients. Learn more about our high quality products including nutritional information on our website.
Fresh Is Best Salsa & Co.
2503777555
1425 Cariboo Place, Kamloops, BC V2C 5Z3
View Larger Map