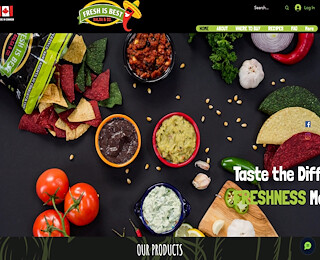 Salsa is quickly gaining in popularity. Once only available in specialty stores and southwestern themed restaurants, salsa is now a staple in most people's cupboards. There are many different types of salsa available but when you want a delicious taste you need to choose the best fresh salsa possible. Canned salsa simply never has enough flavors and because of all of the preservatives it won't have a fresh taste. The best fresh salsa is available in your grocer's deli section.
Best Fresh Salsa
Fresh salsa needs to be made with the best ingredients in order to taste good. The best fresh salsa is made with only the finest ingredients that include tomatoes, peppers, onions, garlic, jalapenos, chili peppers, vinegar and chopped herbs, parsley and cilantro. Only the tastiest and freshest ingredients are used in order to ensure that the salsa tastes like you just made it.
You can't use low quality ingredients in fresh salsa because it won't taste good. Only high quality ingredients that are obtained in their prime are used in Fresh Is Best salsa products. We take pride in choosing only the best ingredients so that you can taste the freshness in our salsa. It simply tastes better than any other type of salsa you can get in a can or jar.
How Hot Do You Like Your Salsa?
Some people like their salsa hot and spicy while others prefer a milder flavor. There are salsa options available to please everyone's tastes. The best fresh salsa is available in mild, medium, hot and extra hot so that you can please everyone. If you are having a party or gathering chips and salsa are a great snack to have on hand. Most guests love to nibble on salsa and chips. You can get a selection of different variations so that your guests can choose the type of heat they prefer.
You won't need to go through all the trouble and spend time shopping for ingredients, chopping them up and then making a salsa recipe. Instead you can opt for a fresh version that is available at your grocery store. Our Fresh Is Best salsas taste like you just made them and they might even be better than your homemade version. Choose the exact level of spiciness that you like or buy several types for your next party.
Fresh Is Best
Fresh Is Best offers a wide selection of authentic products that are all made with fresh and tasty ingredients. Our salsa is one of the best you will ever taste. We also have other fresh products including taco shells, tortilla chips, taco seasoning, hot sauce, spinach dip and guacamole. We started our company from humble beginnings. We sold our fresh salsa at our local farmer's market. It became so popular that we just had to make it available to a much wider audience of discriminating foodies. Today we sell our high quality fresh products at retailers and grocers across Canada. You can learn more about our products including nutritional information on our website.
Fresh Is Best Salsa & Co.
2503777555
1425 Cariboo Place, Kamloops, BC V2C 5Z3
View Larger Map